Individual rusty quartz loose natural stone cladding for walls
IF you are fond of the casual natural style, consider using Loose stones for landscaping/Wall/Patio/Garden. lOOSE STACK STONE VENEER is fairly popular in high demand in China, which also called Culture Stone/Ledgestone/Stone Veneer/Castle Stone/ Loose Stone. It is perfect for Garden hardscape, creating a natural scene with its natural split surface. You can use LOOSE STONE at wall cladding/Bar decoration/Patio/Garden landscape.

Loose stone, although seldom used to cover an entire patio surface, makes an excellent material for borders, paths, or patio sections in which you wish to provide contrasting textures. When selecting the loose stone, take into account the appearance of the stone and whether it is smooth or rough.

You'll find many types, sizes, and colors of loose stone. It has green/pink/beige/blue/grey color. Perhaps no other paving material offers as many colors and textures as loose stone. Stone textures vary considerably, depending both on the size and whether the stone is crushed or rounded mechanically or naturally.

All kinds of stones suit formal and informal design schemes. But overall, loose stone lends a more casual character to a path or patio section and is better suited to informal themes. If you're looking for a product to define and separate flower beds and shrub plantings from surrounding lawn areas, any of these materials will do.

If you do not have an idea to apply loose stacked stone veneer. We share some designs below for your reference. If you have any questions, pls feel free to contact us.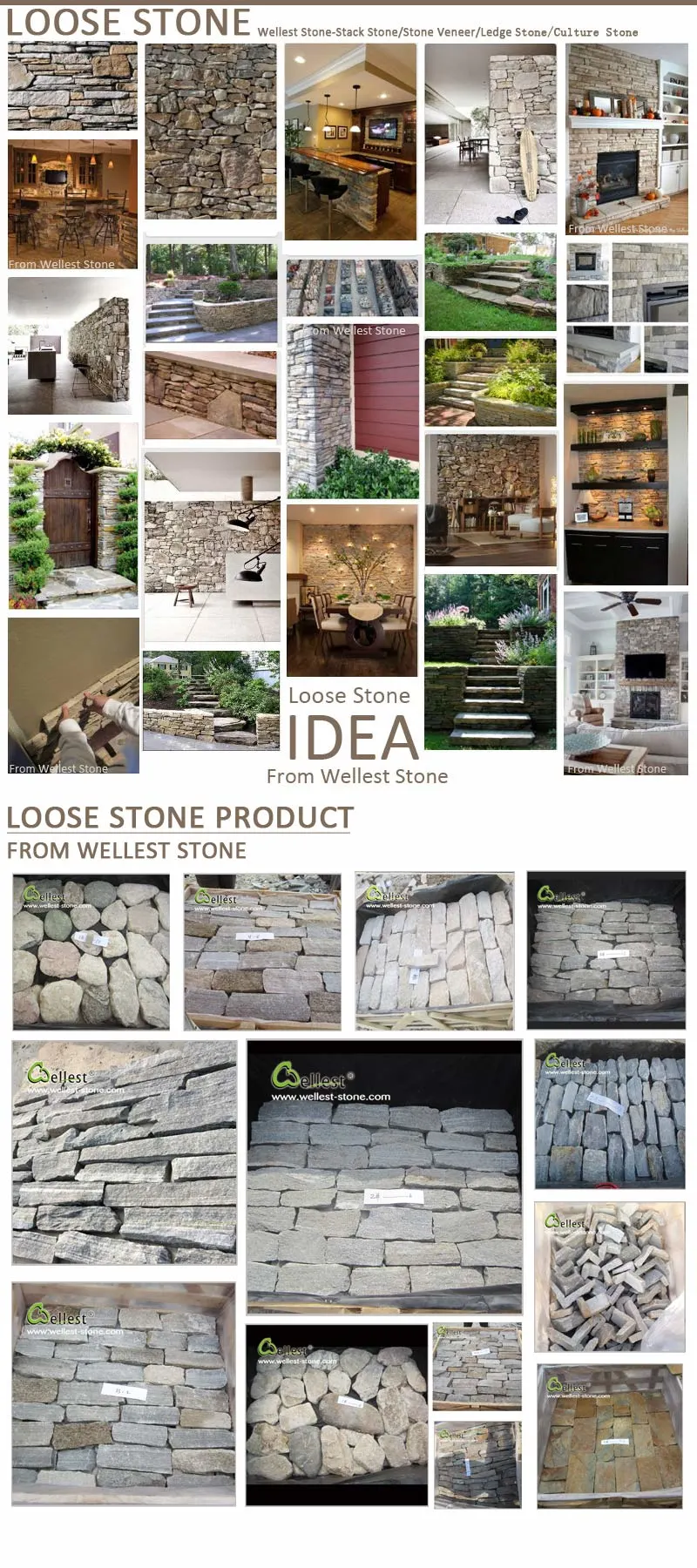 Here is the common size for our products.
Surface Finish
Polished, Honed, Flamed, Sandblasted, Grooved, Inclined, Stripped,
Bush-hammered, Tumbled, Antique, Brushed, Picked, Split, Rough,
Sawn, Water-hydraulic, Acid-wash, Mushroom, Water-repellent, Flower,
Chiseled, etc.
Available Product
Slabs, Flooring Tiles, Wall Panels, Skirting, Window sills, Steps & Riser
, Stairs, Kitchen countertops, Columns, Mosaic & Borders, Sculptures,
Baluster, Medallion, Paving Stone.
Popular
Products & Sizes
Panels
Size(mm)
300X300,300X600,600x600,400x400,
400x600,400x800,600x900,800x800,
1200x1200,305x305(12"x12"),305x610
(12x24), 457x457(18x18)etc.
Thickness(mm)
10(3/8"),12,15,18,20(3/4"),30 (1-1/4"),40,etc.
Slabs
Size(mm)
2400upx600up, 2400upx700up,
2400upx800up, ect
2500upx1200up, etc.
Thickness(mm)
16,18,20(3/4"),30 (1-1/4") , etc.
Countertops
Size(mm)
1830x648(72"x25.5"), 2110x648(83"x25.5"),
2438x648(96"x25.5"), 2743x648(108"x25.5"),
2743x915(108"x36"),2743*x1016(108"x 40")etc.
Thickness(mm)
20, 30, etc.
Vanity Tops
Size(mm)
661x610(26"x24"),813x610(32"x24"),
915x610(36"x24"),1067x610(42"x24"),
1220*610(48*24),1423*610(56*24),
1677*610(66*24),1830x610(72"x24"),
2110x610(83"x24"),2438x610(96"x24")etc.
Thickness(mm)
20, 30, etc.
Pavings
Size(mm)
100x100,100x200,200x200,200x300,
300x300,200x400,400x400,500x500,
300x600,400x600,400x800, etc.
Thickness(mm)
20,30,40,50,60,80,100,120,150,200
Kerbs
Size(mm)
Lx80x80,Lx80x120,Lx80X200,Lx100x100,
Lx100x250,Lx120x120,Lx120x200,
Lx120x250,Lx150x250,Lx200x250,
Lx200x300, Lx250x300,etc.
From Wellest Stone, you always find the stone you need. Feel free to visit our showroom & factory! Working with Wellest Stone, you will get:
Less communication time but better understanding.
Experienced and useful introduction and suggestion.
Best Price.
Worry-free stone products.
An on-time delivery.
A stable supply chain.
Your satisfaction is our consummation! Welcome to contact us!
Check more on our website:wellest.en.made-in-china.com