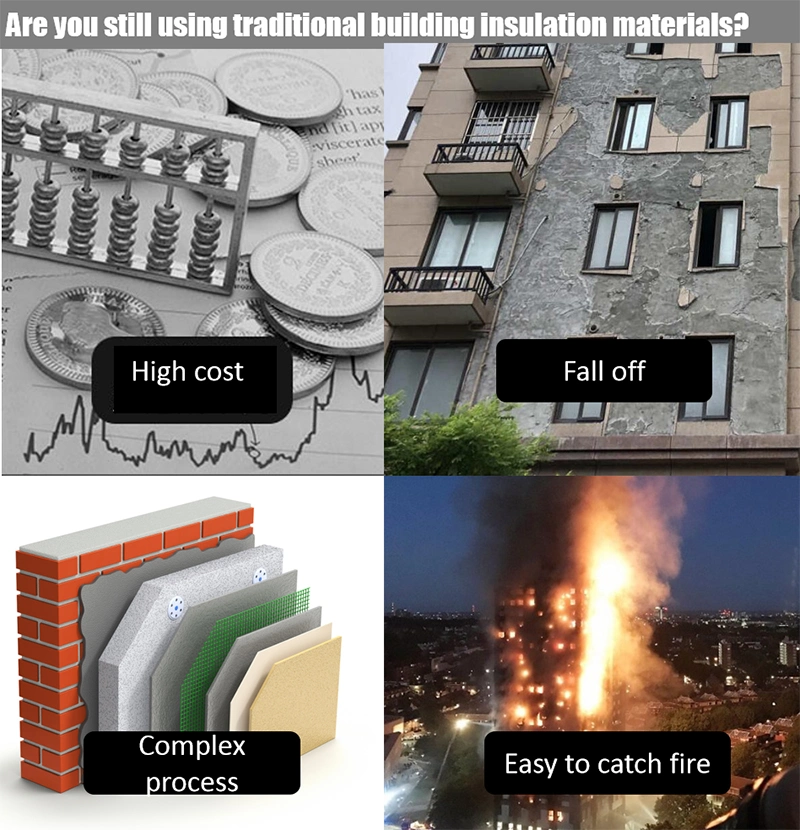 What is infrade thermal insualtion paint ?


The atmosphere has a high transmission during 8-13 μm radiation, or in other words, when the thermal radiation between object and outer space occurs during 8-13 μm spectrum, the outer surface atmosphere of the earth is no longer a barrier but a "window"; through this "window," the radiator on the ground can radiate directly into outer space. Usually, it is called "infrared window" in infrared technology.
The radiative thermal insulation coatings are a system with special fillers, which can convert the absorbed energy into molecular vibration and rotational energy; so the absorbed energy can be eventually transmitted to external space in the form of thermal radiation.
Zanshare Series of coatings are developed for different requests and different application conditions to prevent infrared radiation from the sun, thus blocking heat transfer, achieve energy-saving effect, greatly reduce the energy consumption of air conditioning, and improve comfort.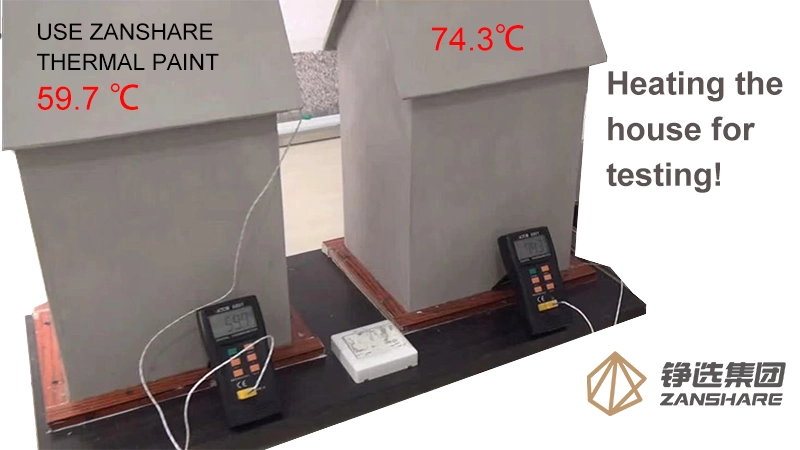 roduct Introductiontio
Product Introduction
Zanshare Acrylic exterior wall latex paint is an exterior wall paint that meets the national premium products.
Zanshare
products are excellent insulators, and provide a green alternative to polystyrene insulation. Core advantage of Zanshare coatings is the superior thermal barrier they provide. In fact, Zanshare coatings resists heat transfer up to 30 times better than concrete. Reducing the potential for heat transfer keeps buildings cooler in the summer and warmer in the winter. Compare to traditional thermal insulation mate

rials ,it is only only 1/4 of the construction time !

Zanshare thermal insulation coating is non-flammable, non-toxic and Eco-Friendly in

production and construction process .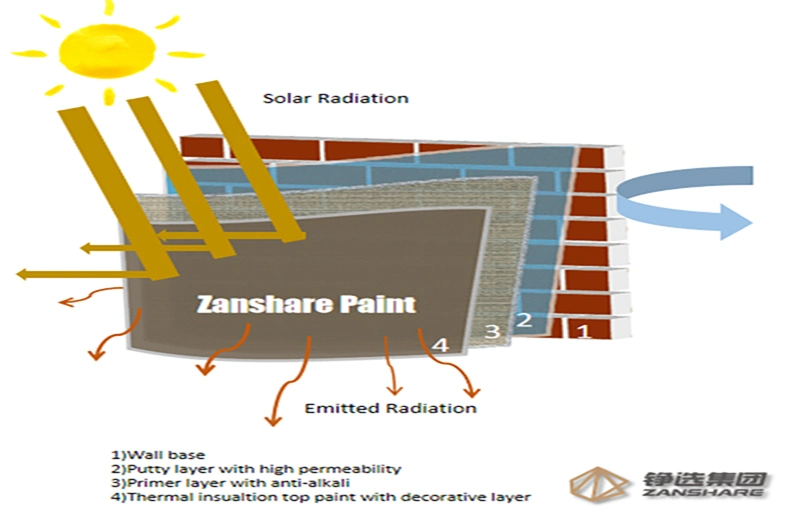 Application Scope

It is suitable for the decoration and protection of various villas, hotels, high-end office buildings, financial buildings and other high-end building walls.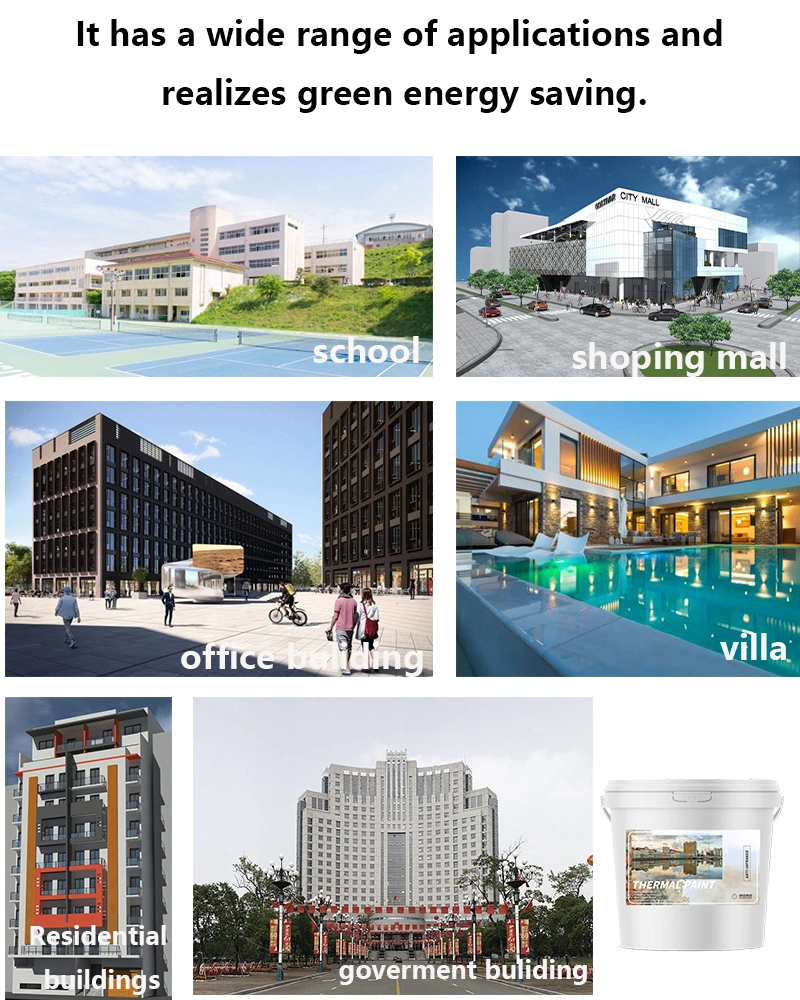 Color:
We accept customization and can modulate the color according to the RAL color card.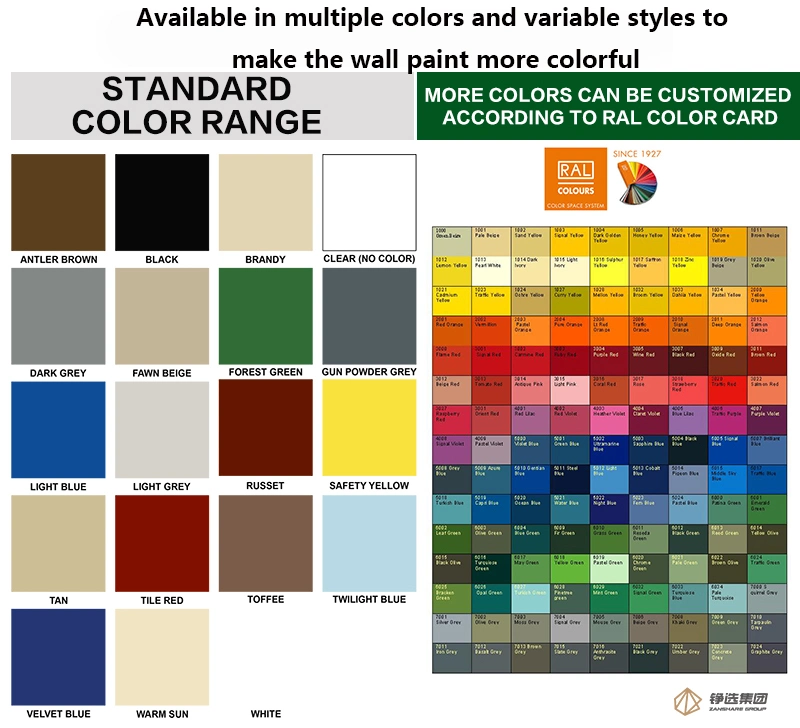 Product Features
1. Natural granite appearance, extraordinary style, colorful patterns.
2. Good environmental performance, non-toxic and tasteless.
3. The decoration has a strong texture, various colors are available, and the decoration is rich in production.
4. High weather resistance, both hydrophobic and good breathability.
5. The adhesion is strong, the surface does not stand up to sand or fall off, and it is firm and flexible.
6. Fully sprayed without seams, completely waterproof and acid rain resistant, pollution-proof, and easy to clean.
7. It can cover the tiny cracks of the wall and resist the cracks caused by machinery and temperature change.
8. Compared with stone, it can greatly reduce the wall load .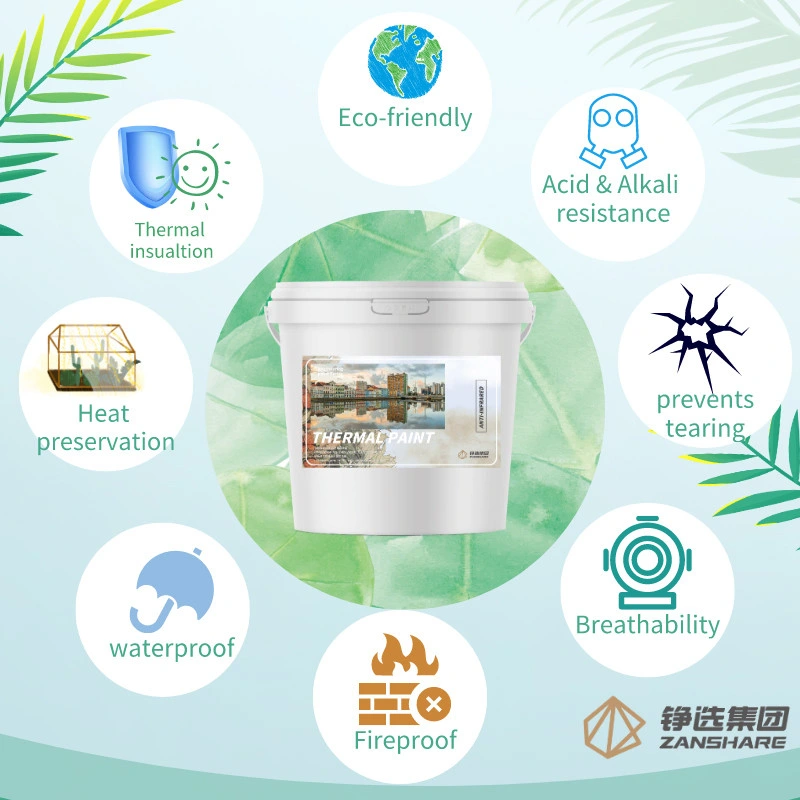 Product characteristics
Ingredients: acrylic emulsion, rutile titanium dioxide.
Color: white, other colors can refer to RAL COLOR CARD
Drying time: surface drying time is 1H (drying time will vary with ambient temperature and humidity)
Theoretical paint consumption: 7~10 m2 / time / KG (the actual paint consumption will vary according to the construction process, required effect, surface roughness of the base layer and construction environment).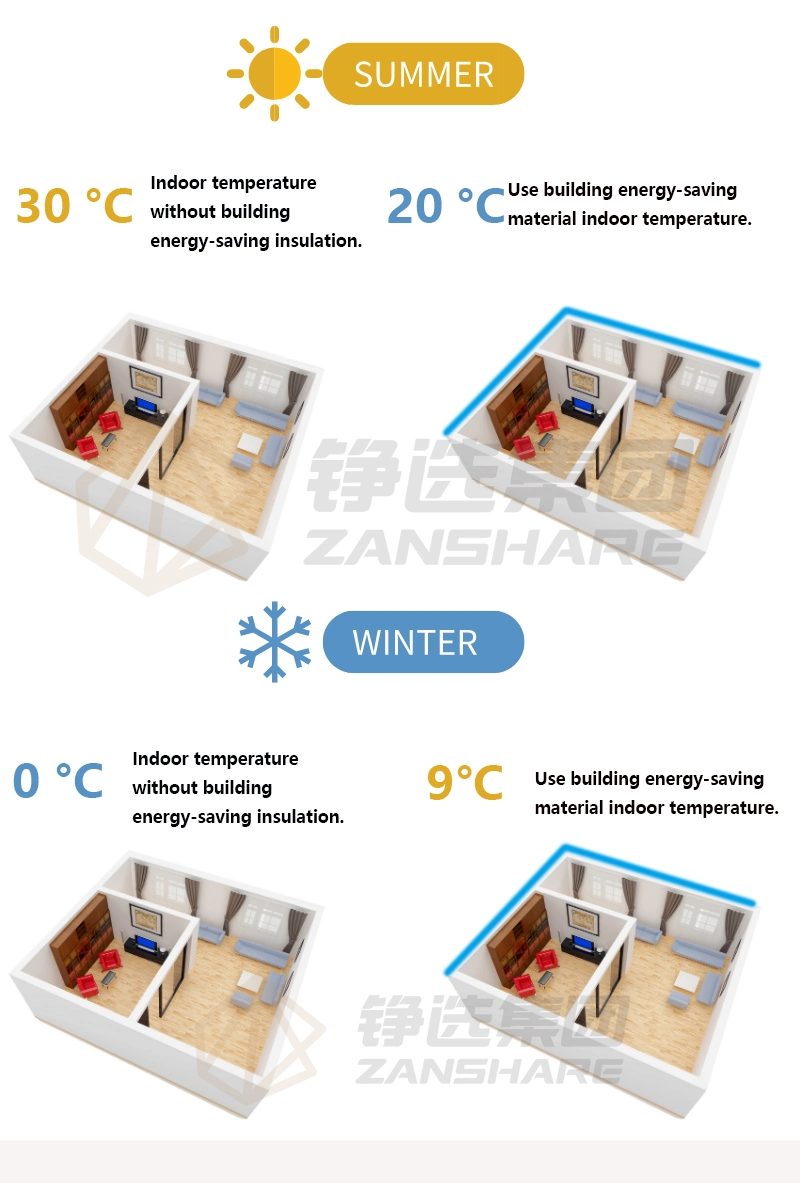 Construction process:
The construction process is simple, only 1/4 of the time of traditional insulation construction!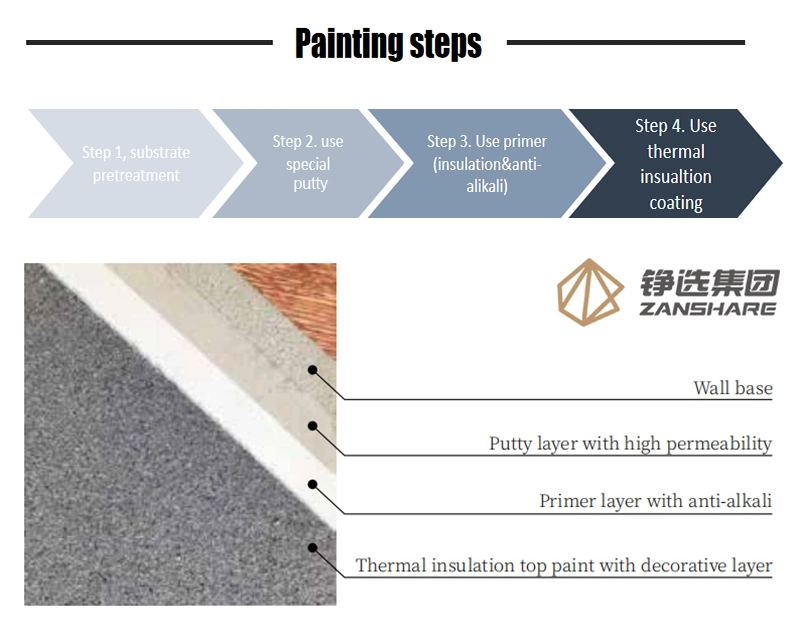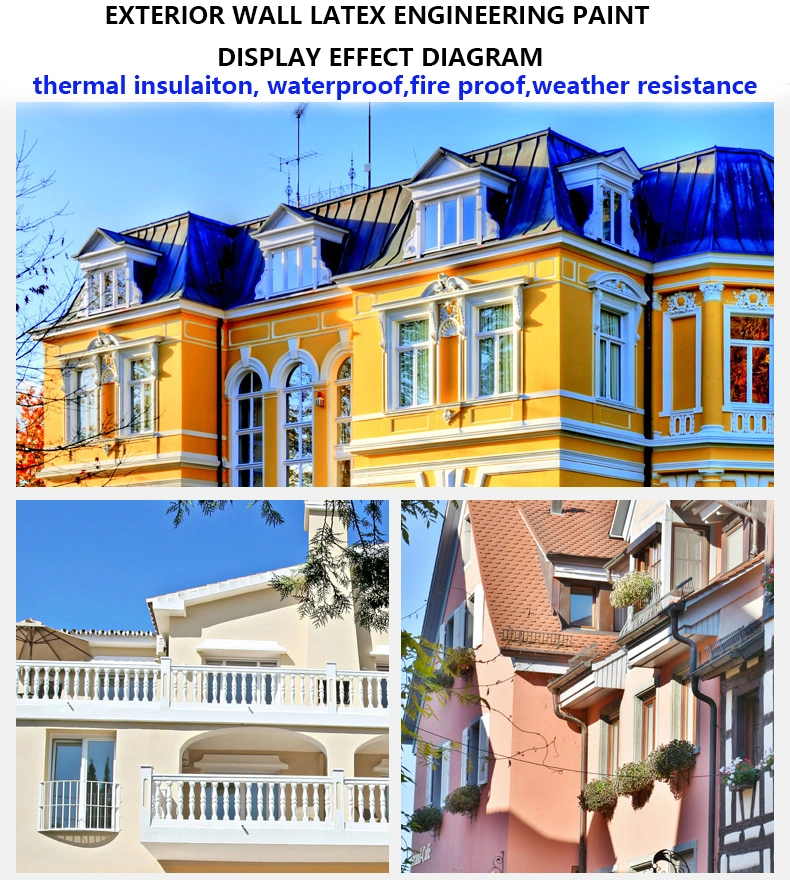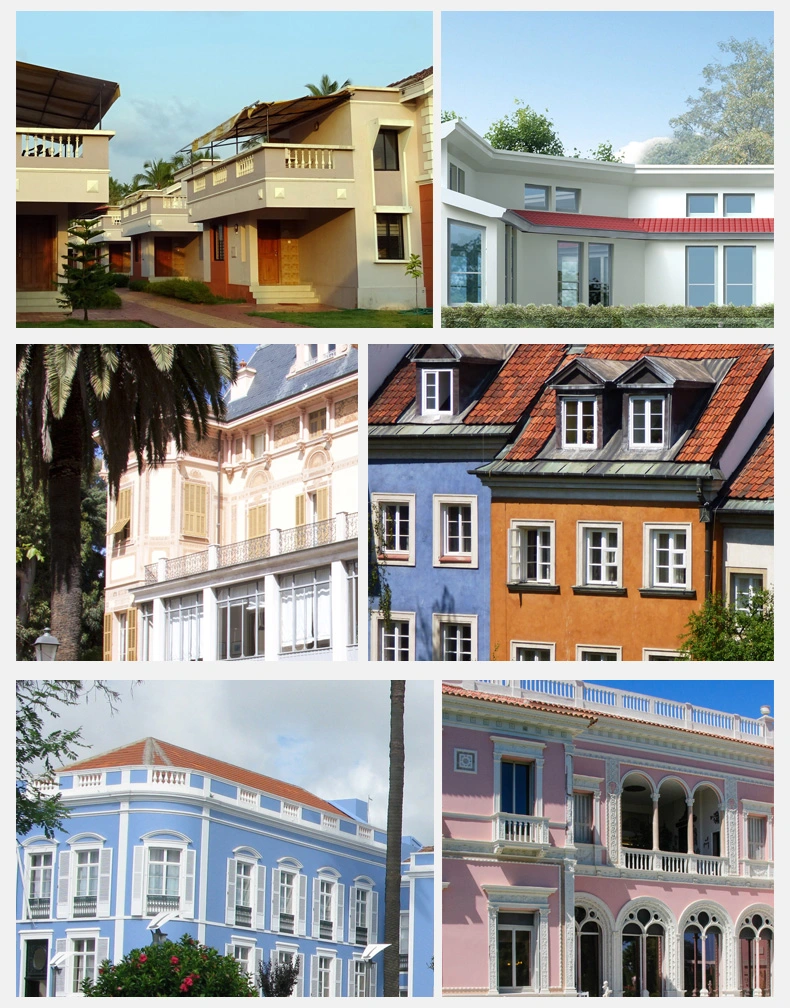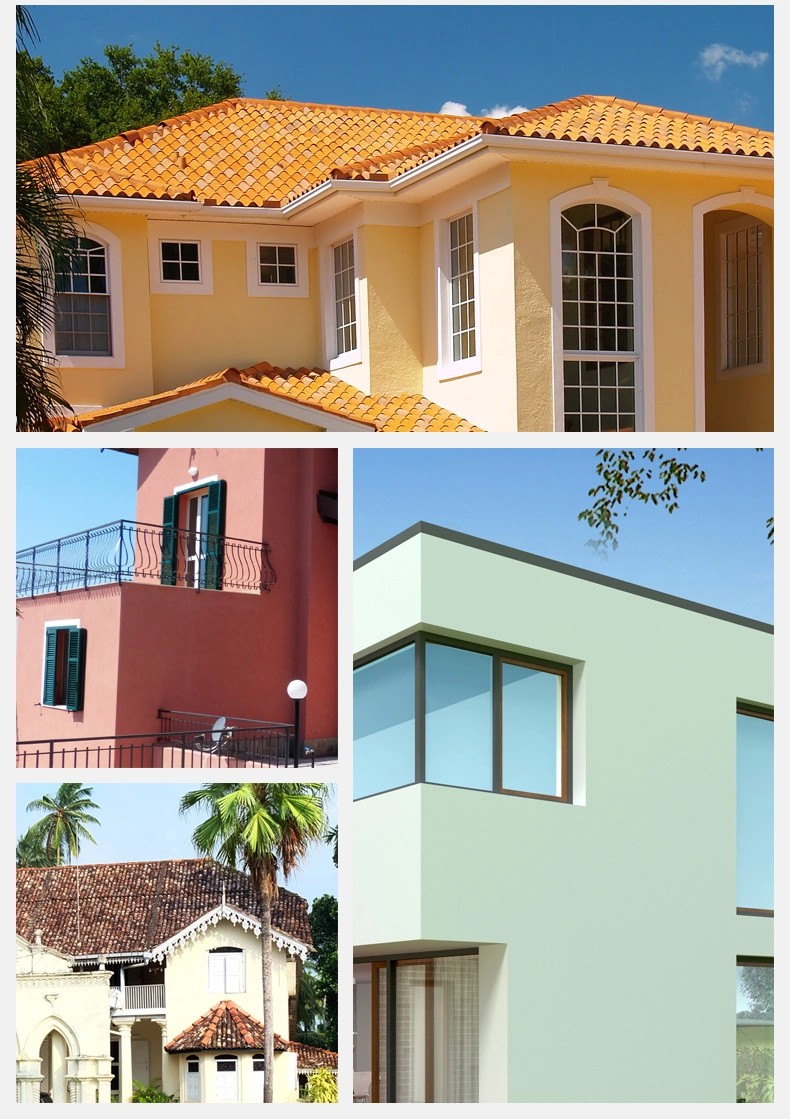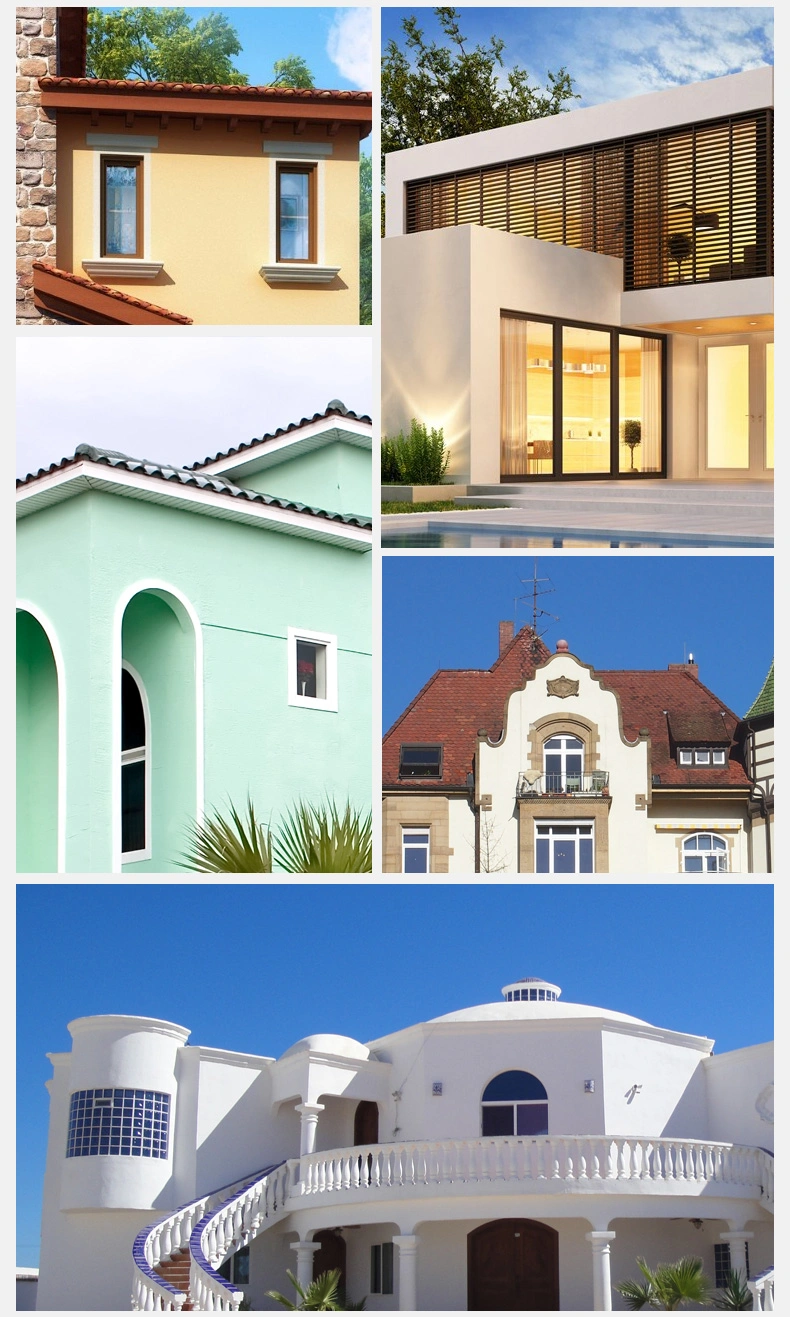 Technical index:
Equivalent thermal resistance

0.78 (m2.K)/W

Solar reflectance

0.85

Hemisphere emissivity

0.86

State in container

No hard lumps, even after mixing

Constructability

Paint twice without barriers

Low temperature stability

No deterioration

Surface drying time

≤2 (h)

Coating appearance

Normal

Contrast ratio (white and light)

0.97

Stain resistance (white or light color)

14%

Alkali resistance (48h)

No abnormality

Water resistance (96h)

No abnormality

Scrub resistance (2000 times)

The paint film is not damaged

Coating temperature resistance (3 cycles)

No abnormality

Water permeability

0.3ml

Artificial weathering resistance: appearance

≥600h

no bubbles, no flaking, no cracks

Resistance to artificial weathering: powdering

Level 0

Artificial weathering resistance: discoloration (white or light color)

Level 1

Volatile Organic Compound

51g/L, national standard is

≤150g/L

Formaldehyde

31mg/kg, national standard is

≤100mg/kg

Synthesis of glycol ethers and ether esters

Not detected

Pb

Not detected

Cd

Not detected

Cr6+

Not detected

Hg

Not detected
Our Service
FQA
ZANSHARE own a series of technological support to meet the customer demand.
Professional solution team accompany with you from the beginning of the project plan to project design and management,to provide accurate engineering analysis and perfect design as customer demand, comfirm the best solution to you .
ZANSHARE always provide professional, high quality and caring efficient services.we provide pre-sales analysis,technical consulting,and installating guide when we sell,and also after-sale service,one to one professional and efficient service and 24 hours online consultation.
FAQ
What exactly is external wall insulation?
Basically, a system of boards of thermally insulating material that are fixed to the building exterior and finished with a weather resistant, decorative render.ZANSHARE offers a professional insulated wall panel systems to meet the needs of insulation market sectors. Our wall systems offer superior quality and high R-values, while providing a modern look. ZANSHARE insulated wall panels are the ideal solution to create and maintain a high performance building envelope.
Why should I consider external wall insulation?
Up to 35% of heat lost from poorly insulated buildings escapes through the walls. External wall insulation significantly reduces this heat loss, leading to a reduction in annual fuels bills by as much as 25%. External Wall Insulation systems also protect the building structure, prevent deterioration, and overcome thermal bridging and condensation problems. Newbuild In a newbuild instance EWI systems are the most cost effective way of achieving the current & future thermal performance requirements for the building regulations, achieving an internal environment with low temperature fluctuations and low heating requirements.
What can I do if my climate zone requires a higher R-value?
Create an ZANSHARE System.It is suggested that the insulation effect can be composed of three parts: the first is the self-insulation of the wall, the second is the combination of external insulation and internal insulation, and the third is the cooperation of ground insulation;